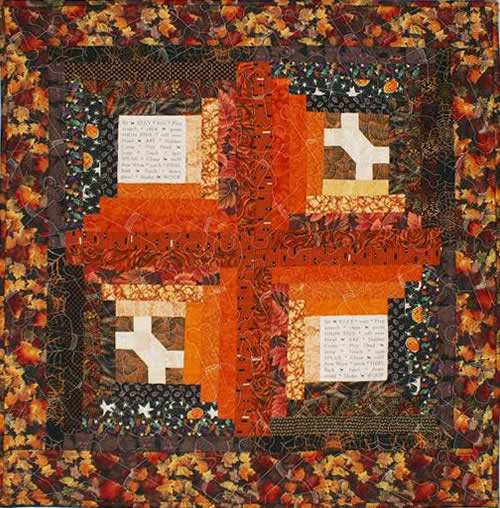 Quilt A Dog A Bone began when, with the help of my mother, we made a couple of small quilts for my dogs, Pippi and Cheeky. I thoroughly enjoyed making them, and being small, they were projects we could finish in a reasonable amount of time. A nice break from some larger projects that seemed to take forever to complete. Once my dog quilts were done I posted pictures online to share with friends and family, and was surprised and delighted when others started asking if I would make and sell them a quilt.
I love the creative process of making a quilt and designing is my favorite part. That is partly why each quilt is one of a kind. The other reason? Each pet is unique and they deserve a quilt as unique as they are.
Why the name Quilt A Dog A Bone? Almost every quilt has a signature bone block in it somewhere. Some may have more than one while others only one. Take a look in the Quilt Gallery and see if you can spot them all.

I have four dogs (Pippi, Cheeky, Pixie and Dutchess) and two cats (Patches and Sweetpea). There is also Emma, a cat, who spends her time with my parents.


lived to be 23 years old. She was in the house long before the dogs, and it took her a while to warm up to them. But she ruled the roost and would cuddle right up with them. In her later years she would take and carry the dog toys all over the house.
On rare occasions Patches can be found playing on Catster.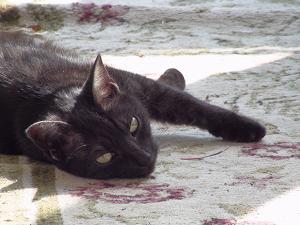 is 13 years old, and was another stray. She was found on a cold November night in 2001, and was such a tiny kitten she could curl up and sit in the palm of my hand. Since she was found at a Civil Air Patrol function she was given the honorary rank of general (to outrank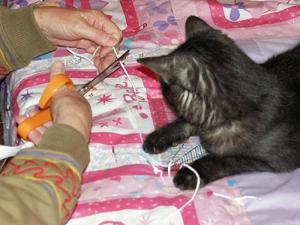 the Colonel that found her), and my parents usually call her General. I call her Peapunkin as much if not more than I do Sweetpea. She sleeps on a quilt on the bed at night as well and prefers a quilt to other covers.
Sweetpea also has profiles on Catster, but claims the dogs will not give her adequate computer time to keep it updated.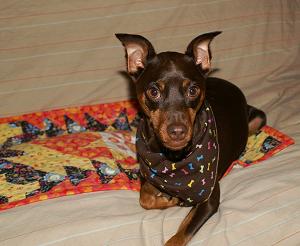 is a 7 year old chocolate Miniature Pinscher. She is full of energy, but when she naps she tends to like to be covered with her quilt rather than nap on it, but come bed time she prefers to be under the people covers ... and in the very middle of the bed if possible. Pippi loves a nice long hike and a romp through the creek or a good mud puddle. She has been swimming and canoeing before and likes the water with the exception of a bath.
Pippi can be found on Dogster, Facebook, and Twitter (although she is not as active on Twitter at this time).


is a 7 year old Chihuahua. Half the time she likes to sit on her quilt, and half the time she like to be totally under it, looking like a lump on the bed. Like Pippi, she wants under the people covers when it's time to turn in for the night. She will not go to bed until she has "washed" my face and tucked me in. Cheeky is a true princess and will not sit or lay down on a hard floor surface unless there is a quilt down for her. And if her quilt happens to be on a pile of pillows, so much the better.
Cheeky can also be found on Dogster and shares Facebook and Twitter pages with Pippi.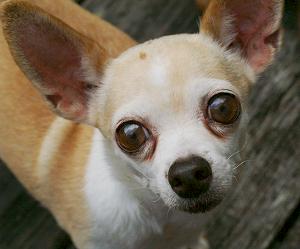 is an 8 year old Chihuahua. Best guess on the age. While at a fundraising function at a local park someone from the animal shelter came over to tell me they had a stray that could be Cheeky's twin and that she wasn't doing well in the shelter environment. Well, I couldn't stand the thought of that and had to go check on her. I must have known what would happen since I took a harness and leash with me, and she became a part of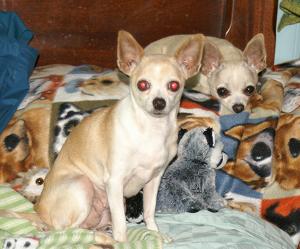 the family. Pixie and Cheeky can often be found snuggling up together, especially in cooler weather. Pixie is a happy go lucky girl who is happy to be covered up with a quilt, but most of all she wants to be right next to me at all times.
Pixie can be found on Dogster.
Pixie (left) and Cheeky do look a lot alike.

is an 11 year old red Miniature Pinscher. She joined the family in late January of 2012 after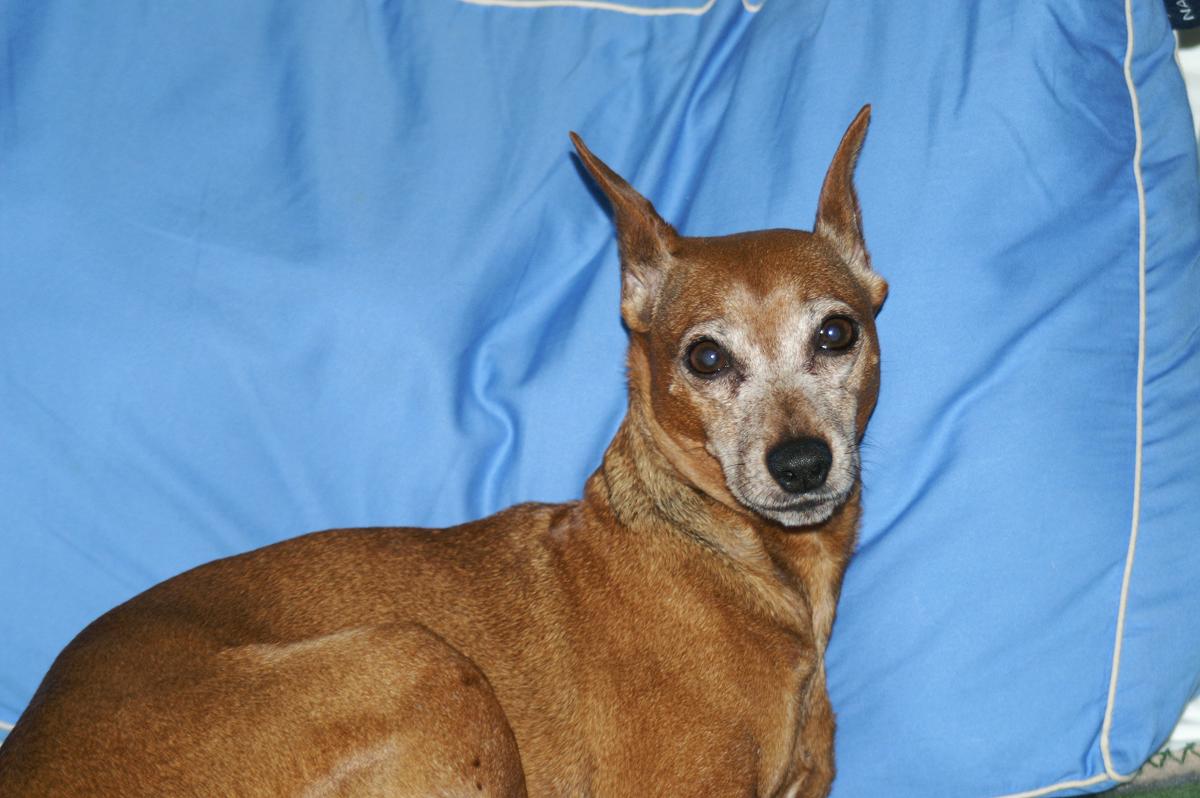 a mutual friend put me in touch with her family. Despite being a "senior" she is still full of energy and, like Pip, likes to get out and hike or take a long walk. When at home Dutchess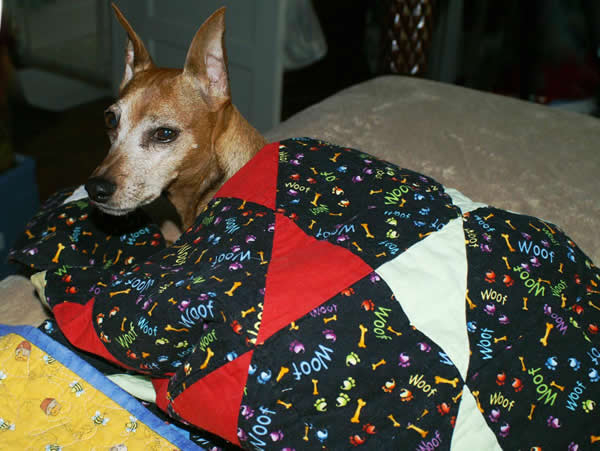 loves to be under her quilt - covered up all the way. Every now and then you will find her nose sticking out, but not that often.
Dutchess can be found on Dogster.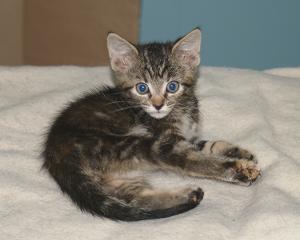 is my parents cat and is about 5 years old. She enjoys pestering and playing with Pippi and Cheeky. Pippi loves to be chased by her, but Cheeky would prefer her tail be left alone. Emma could be inspector number 7. She does like to be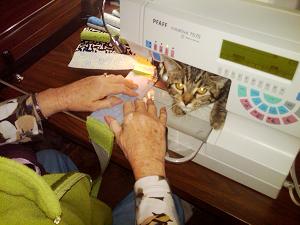 right there when a quilt is being worked on to make sure we are doing everything right.
Emma is not online at this time, but you can find more pictures of her on Pippi and Cheeky's Facebook profile.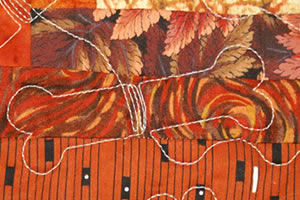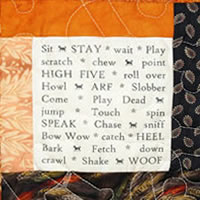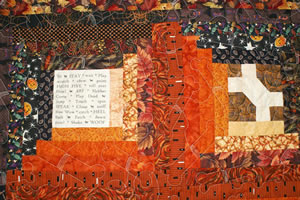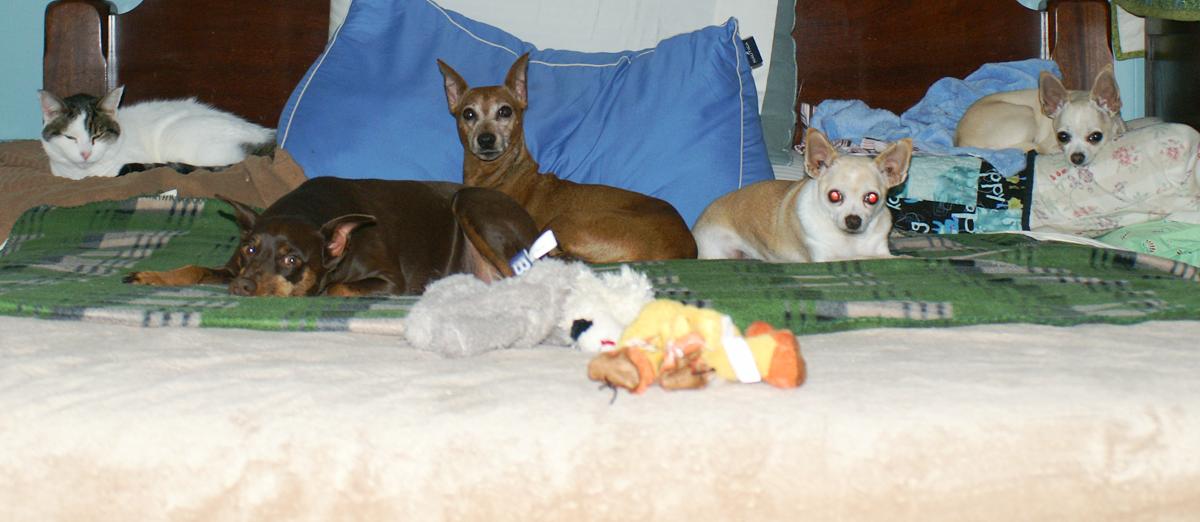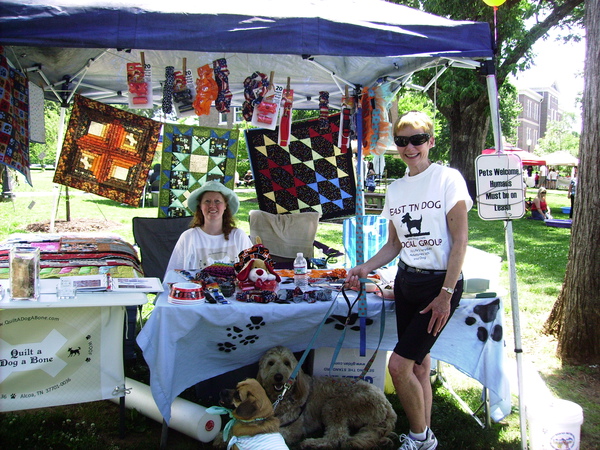 At the Critter Fest in 2012